The Wolf Ears Mountains
"After leaving the city, Shade and Marina follow their star towards the next landmark. They've turned away from the sea now and are heading inland, towards the mountains. The mountains were loosely based on the Appalachian range, but they look much more like the mountains near where I grew up in British Columbia. In fact, the Wolf Ears that Shade and Marina are searching for, are actual twin peaks in the coastal range near Vancouver, Canada." - K.O.
The Lions, Vancouver
The Lions are the famous twin peaks that provide a unique backdrop to the city of Vancouver 's dramatic skyline. The sister peaks were named for their likeness to a pair of sleeping lions and were the inspiration for Vanacouver's other defining characteristic, The Lions Gate Bridge which spans the entrance to Burrard Inlet from English Bay , Vancouver 's natural harbour.
The Lions are the middle peaks in the North Shore Mountain Range which includes Black Mountain in the west, Capilano Mountain , Grouse Mountain . and Mount Seymour in the East. The West Lion is 1646 metres high and the East Lion is 1599 metres in height. In summer The Lions, like their neighbours, are highly popular with hikers and climbers, offering idyllic walking conditions and spectacular views of the city and harbour below.
Source: discovervancouver.com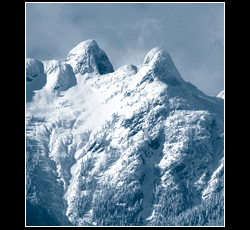 click image to enlarge
photo: © Paul Yates, BigStockPhoto