The Spire
"Shade and Marina realize the tower they're looking for is actually the spire of a massive cathedral. They're supposed to take a reading of the stars through the cross at the top of the spire, and this will show them the star they're supposed to follow to the next landmark. I based the cathedral and spire on Notre Dame Cathedral in Paris. It's a wonderful building, with lots of carvings and buttresses and gargoyles." - K.O.
Notre Dame Cathedral, Paris
Notre Dame de Paris is one of the most famous buildings Paris . Situated on the Île de la Cité in the Seine River which runs through the centre of the city, the cathedral is not only a major tourist attraction but a functioning Roman Catholic cathedral and the seat of the Archbishop of Paris. The building is considered one of the finest examples of French Gothic architecture.
Construction of the cathedral began in 1163 during the reign of King Louis VII on the site of a Romanesque church that dated from 528. With the additions of spires, chapels and transepts, the building as it can be seen today was completed nearly 200 years later in the mid 1300's.
The cathedral, which has survived revolution and wars through the ages, is characterized by its stained glass windows, gothic gargoyles and flying buttresses. The buttresses were not part of the original design of the building but a later addition to prevent its thin walls from pushing outward.
Source: paris.org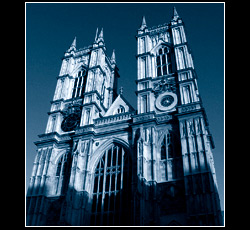 click image to enlarge
photo © Fred Richardson; BigStockPhoto